If you think the social media clown phenomenon was only in the United States, you are living in a bubble. Clown sightings and incidents were recently reported by The Guardian that they have made their way to England. Origins as to how this clown craze has become such a huge epidemic is believed to have been traced back to a famous movie. This famous movie was called Penny Wise. The movie was based on Stephen King's famous horror story called "It". The story was about an evil clown. However, the exact reason for the clowns appearances has yet to be determined. 
In total about six incidents of clown sightings and being chased by clowns have been reported. Just like in the United States the clowns have been reported wearing clown suits and clown masks. Social media accounts such as Twitter and Facebook have been used for this clown scare/epidemic. Below is a threatening comment made by a fellow clown on one of the clown Facebook pages. Posts such as this threaten to injure or murder. However, no injuries or deaths have been reported from any of the clown incidents yet.
From the Ain't Clownin Around Facebook Page.
Clowns have been spotted standing on the side of streets holding a weapon (knife), have been spotted driving vans, and have popped out from behind bushes. There have also been incidents reported in which they have confronted school aged children or have even chased both adults and children down the street with weapons. For example, as reported by The Guardian
    "In Clacton, Essex, two schoolgirls were approached by a pair of clowns who asked if they wanted to go to a birthday party. The incident, which happened in Oxford Road at about 9am on Tuesday, prompted Clacton county high school to ban pupils from leaving the premises at lunchtime".
While this school prevented their students from leaving the building during the day, other schools decided to shut down.
Another example of a clown incident occurred with a 17 year old girl. The incident occurred on the evening of October 4th. The girls name was Megan. She was walking home from school until she noticed someone wearing a clown suit and a clown mask in the distance. A few seconds later she was being chased down the street. The following morning Megan posted the following Facebook post.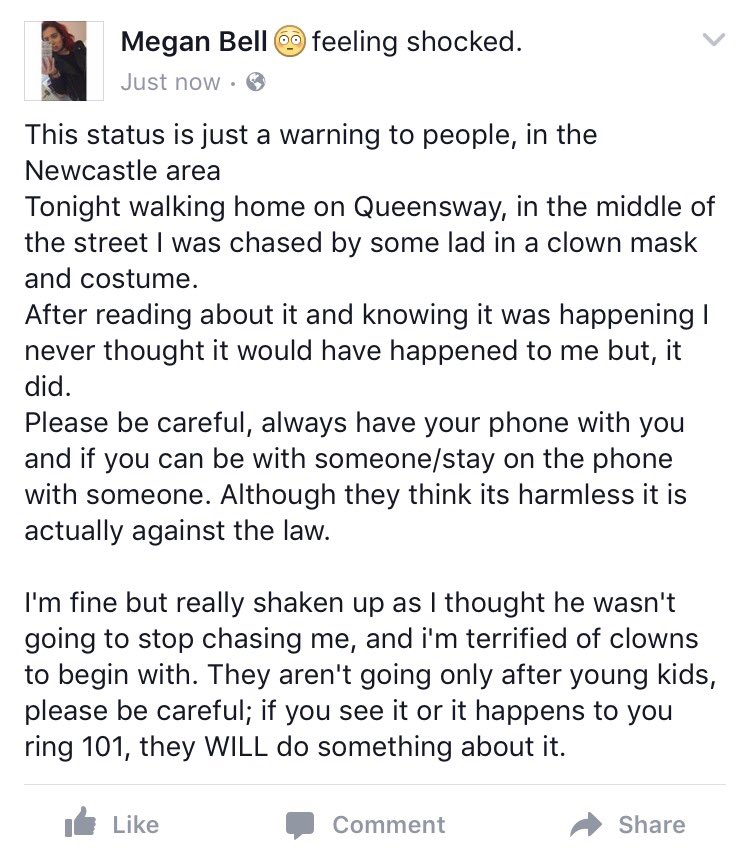 These incidents have gone way to far. Both adults and children are terrified for what is yet to come. Police in England are on the case and are currently investigating the clown sightings/incidents. Some schools have heightened their security. They have also been trying to figure out the people behind the Facebook and Twitter Clown accounts. As stated by one English police officer from The Telegraph
    "I would like to appeal directly to the people who are dressing up and carrying out these stupid acts to think seriously about what they are doing, the distress they are causing to young children is unnecessary and it needs to stop."
If anyone encounters a clown sighting/incident English citizens are encouraged to call the police at 101.