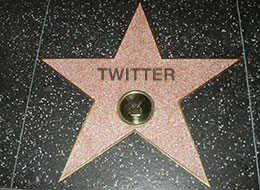 While final pricing of Twitter Inc is still being hashed out between Twitter management and its underwriters, an article published by AP business writer, Ryan Nakashima, discusses the rising number of celebrities, self-promoters, and athletes are burnt out and are opting to pull the plug on the social media outlet. Some complain about the fact that their tweets are being lost amongst the noise, while others who once had a steady following are dealing with those who have turned against them.

There's a slew of celebrities who have taken a break from the service including Miley Cyrus, Alec Baldwin, and the creater of "Lost", Damon Lindelof.  Actress Megan Fox quit the service earlier this year, explaining, "Facebook is as much as I can handle." John Mayer admitted to being a "tweetaholic" and because of that, he was unable to write a song. He deleted his account in 2011. Users have admitted that Twitter is a "time-sucking seduction" and they turn away from it.

This cacophony is a part of everyday life, with Twitter fanatics tweeting during dinner, in bed, and in other places where time could be devoted doing other more personal things. A Dallas-based vice president at themarketingarm, Tom Edwards states, "Managing our virtual personas, including all of the etiquette that comes with, can be tiresome, especially for those with large followings."

For journalists who have large Twitter followings, using Twitter has become essential for landing better-paying jobs. Actors on the other hand can land roles on TV or in films if their digital audience is expected to tag along. With all of the different forms of social media to update and check, it can be overwhelming for some. For the one who has many obligations outside of Twitter, sometimes dropping offline can feel like a big relief.